In 1870 James Morley, head of transportation for the Cambria Iron Company, purchased the now-famous canine in Philadelphia. The dog was cast by J.W. Fiske in the late 1800s, and served as a lawn ornament at the Morley home at the corners of Main and Walnut Streets in downtown Johnstown.
When the wave flood water hit downtown Johnstown on May 31 1889, Mr. Morley's dog was swept away in the current and carried, along with various other debris, to the Old Stone Bridge. The dog made up part of the flood-formed dam at the stone bridge and was returned to the Morley family some time later.
In 1903, James Morley's son moved the dog to his home at 301 Bedford Street. Once that residence was sold, the family moved the dog to the home of W.E. Matthews on Palliser Street in Southmont.
Mrs. George Kline, James Morley's daughter, wished to donate the dog to the city. In 1944, he was officially donated as a gift from the Morley, Kline, and Matthews families, and was placed on a concrete slab in front of Kline's store at the corner of Main and Market Street. The dog's tail was damaged by vandals in 1952, and in the following years he received a new set of ears and several coats of paint.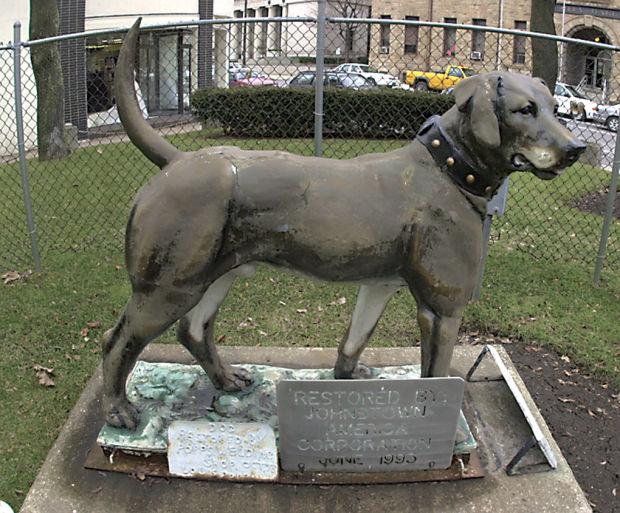 The most famous act of vandalism against Morley's Dog came in August of 1973, when AAABA players from Buffalo tipped him over and he broke into several pieces. Many questions about the dog's repair arose; he was thought to be iron, but was in fact made from an alloy of zinc, and would have melted under the heat of a welding torch. Louis Popp of Popp's Welding undertook his repair with the help of retired Bethlehem Steel Corporation tinner Charles F. Roth.
The repairs involved a process known as lead-burning, a technique similar to soldering. The dog was filled with concrete and reinforced with steel rods, then coated with fiberglass "skin" to protect him from the weather. Morley's dog returned to his place in the park before Kline's Store in November of 1973.
In 1976, Morley's Dog moved temporarily to central park, where Universal Studios filmed scenes of the Paul Newman classic "Slap Shot." Newman informed his co-star, Lindsay Crouse, that the dog had saved someone's life in a flood…that is one of the many myths of Morley's Dog.
After filming was completed, he returned to his place on the corner of Main and Market Street. In 2012, Morley's Dog was dedicated as an icon restored at his new, but likely temporary, home in the Heritage Discovery Center. A replica of Morley's dog still stands at the corner of Market and Main Street to commemorate this piece of history. There are also several other Morley's dogs that are decorated to represent history and local organizations. Their locations can all be found below.
Bottle Works Ethnic Arts Center
The Corner of Main & Market Street
Duke LifePoint/Conemaugh Memorial Medical Center
Frank Dachille Architects
Heritage Discovery Center (Original Morley's Dog)
201 Sixth Avenue
Johnstown, PA 15906
Richland Township Volunteer Fire Department